Wow, I have been busy!!! Consequently, I haven't been able to blog in a while. One of my recent projects is the "Big Chief". I was recently commissioned to paint a logo of sorts on a hit or miss engine from 1912. The original logo was a decal and because of normal wear and tear, and the fact that the engine is almost 100 yrs old, there aren't any Big Chief engines today that still have the original logo. So, I was provided with a drawing of a Native American Chief's profile and I modified the design to make it more of a logo and simplify it for a smaller size. I was painting with enamel so I also had to modify the design to accommodate the restrictions of the paint. The image on the right is a close up of the logo that I painted on the right side of the hopper. I painted a mirror image of the logo on the left side of the hopper, and I also painted the words "Big Chief" on the front.
The painting below is the engine assembled.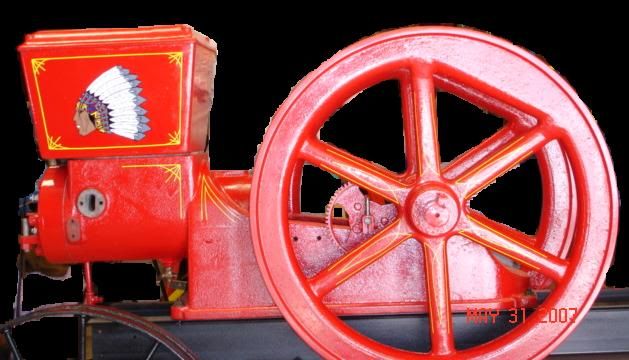 The design ended up being about 8" x 8", so that will give you some idea of the size of the entire engine. I must add that I did not do any of the pin striping!!! The pin striping turned out great and I knew that if I would have attempted that... it wouldn't have looked as good as it does. I am satisfied with the way the logo turned out... I would have liked to have spent more time with it, but I know that if I kept working on it I would never be done! This was the first time that I have ever really worked with enamel and I definitely had some trouble. In the end I think I pulled it off. I would like to work a little more with enamel, the only catch is that unless I learn how to airbrush, anything that I paint will be really flat. The paint does not mix at all and I am not sure that it would mix with any type of oil based medium.