Sunday, I had an idea for a new summer top. The original idea, I remember from thumbing through this
this book
a few years ago.
And more specifically, this project.
I'm not really crazy about the granny squares crocheted into the top of this shirt so I decided to kinda make up my own. It honestly started with the fabric... I bought the
Anna Maria Horner, Little Folks Voile
2 years ago, with the hopes to turn the less-than-a-yard that I bought, into a skirt.
Right after I bought it, I make one french seam to turn the yardage into a tube and then I got distracted and the skirt ended there. Voile is a lightweight mercerized cotton and it flows beautifully and I knew that it would be perfect for this project and I just so happened to have the perfect yarn, which I bought on sale at
Tuesday Morning
wile visiting the in-laws a while back.
It took 2 balls of this yarn for the top, mostly because of trial and error, otherwise I probably could have made it with just 1. I gathered the top of the Voile tube, I made my own biased tape to enclose the gather, I attached the crocheted section to the fabric, then made a channel at the bottom which I enclosed a crocheted "ribbon" to gather the bottom and add a bit of detail. I LOVE how it turned out. I also learned a lot in the process. Here is the result :-)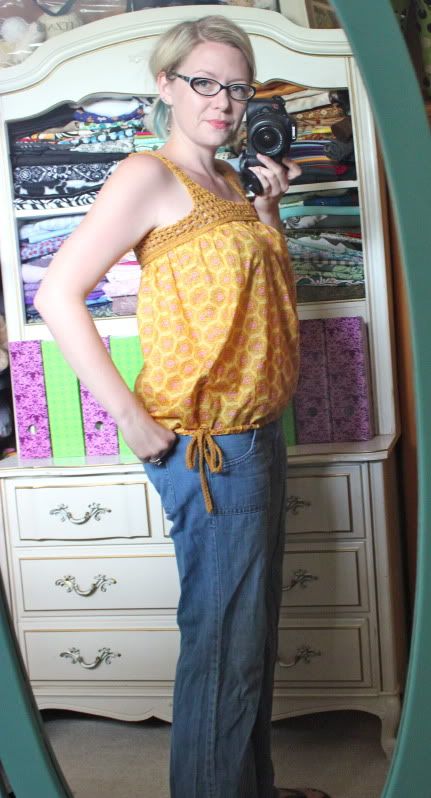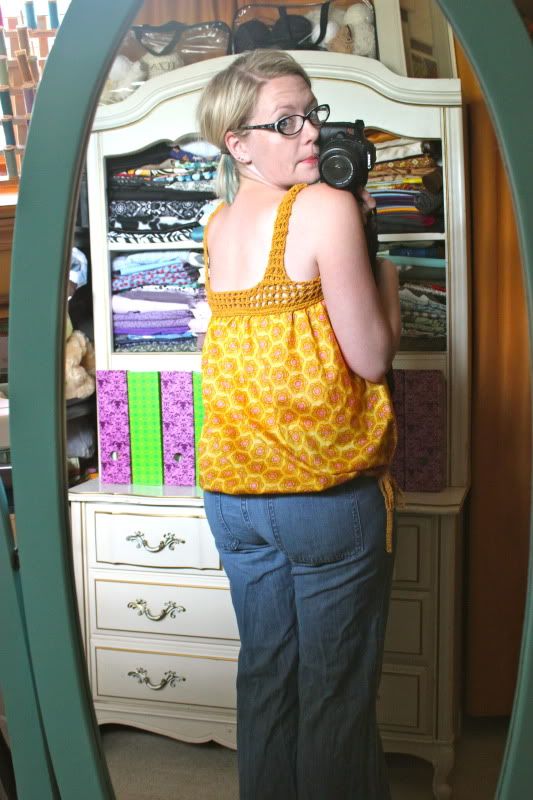 I had to add in a little something extra, but serves a huge purpose....
This is to remind which side is the back, just in case I forget what side the bottom tie goes on :-) I have an upcoming project in the works for this fabric, so hopefully I can share that soon.
Until next time, Happy Sewing!!