Like many artists, I have about 20 different projects going on right now. As I have mentioned, my typical wedding present is a painting. I have a wedding coming up in a few weeks and I am sorry to say that I am SOOOOO busy that I don't think that I will be able to paint one... although by telling myself that I can't do it, now I am somehow getting inspired and dared to try. We will see if that happens. My most recent project wasn't art at all; I knitted a pair of fingerless gloves.
I enjoyed this project immensely!!! The above picture is the end result. The pattern was from the
Louisa Harding Gathering Roses Accessories Collection
and I used Artful Yarn in Candy. This is the second knitting pattern that I have ever followed and I loved the challenge. I loved it so much that I made my own pattern for an easier pair of fingerless gloves, which might be an Urban A+C's free monthly pattern (I will keep you all updated). On another note Urban A+C is having an Artist Trading Card contest that ends on 7-25-07. So, I am inspired to make some more ATCs that I can trade on that same night. While searching the Internet for more inspiration, I spotted one of my cards on a familiar blog:
http://kcatc.blogspot.com/2007_02_01_archive.html
I am also starting to make ring-a-dings out of alternative materials. The picture on the left is my fist ring, let me know what you think.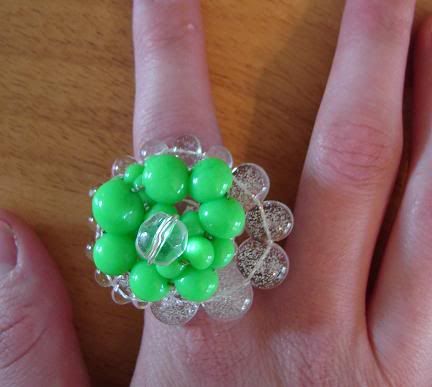 The picture below it is the side view. These are the projects that I am working on today.... I have at least 15 more in the bag that are started, close to being done, or just a thought. But a lot of those are going to have to wait. I have company that is coming in less than a month and my most important project of all is getting my house clean!